Kogei Architecture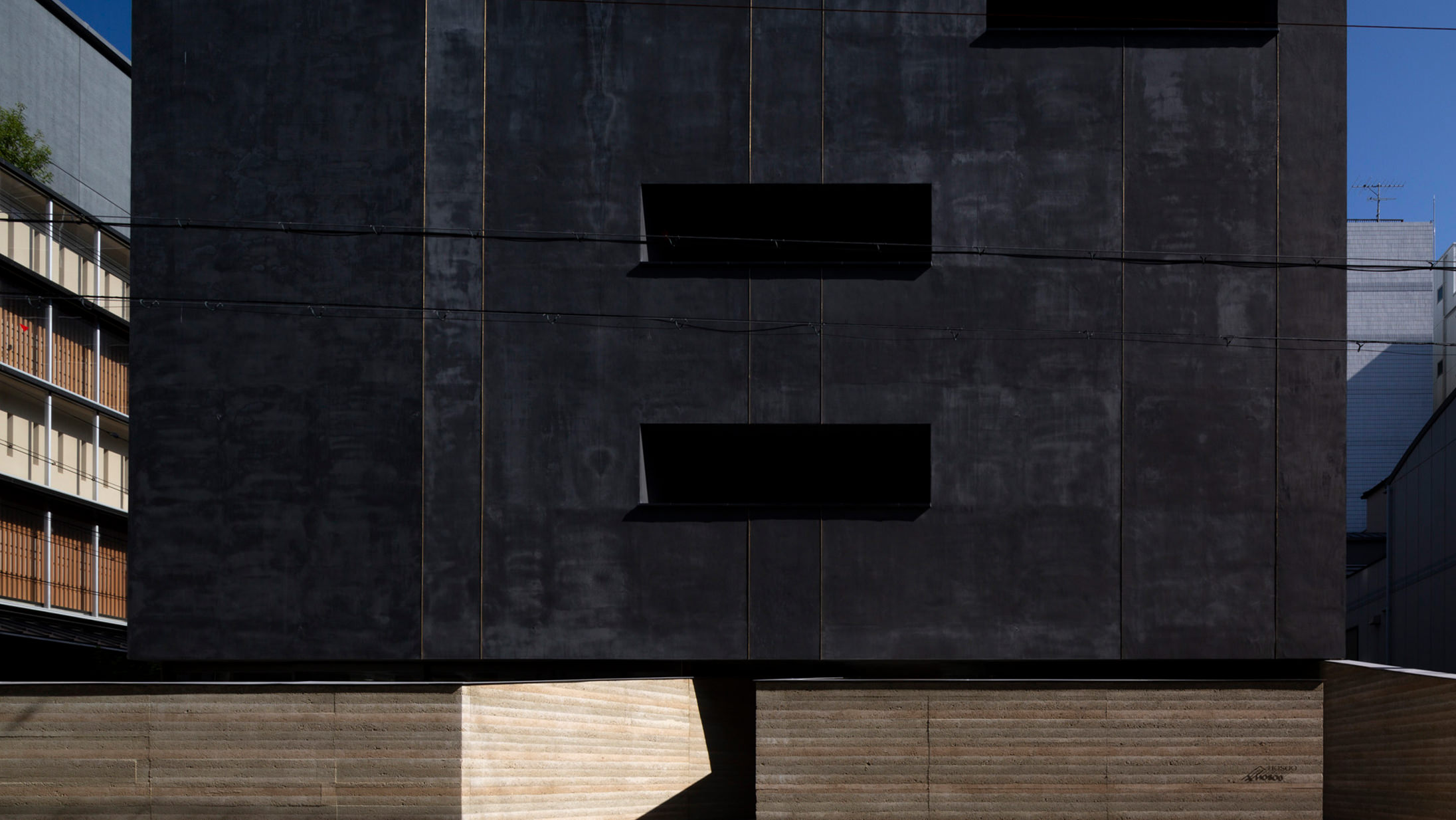 The architecture of HOSOO FLAGSHIP STORE — the company's headquarters located in Kyoto's inner-city district — converges exceptional craftsmanships of individual craftsmen and brings out the potential of each material and technology. It is a "kogei architecture (architecture imbued with the spirit of authentic crafts)" that weaves together diverse materials into a three-dimensional beauty, an approach also integral to Nishijin textile.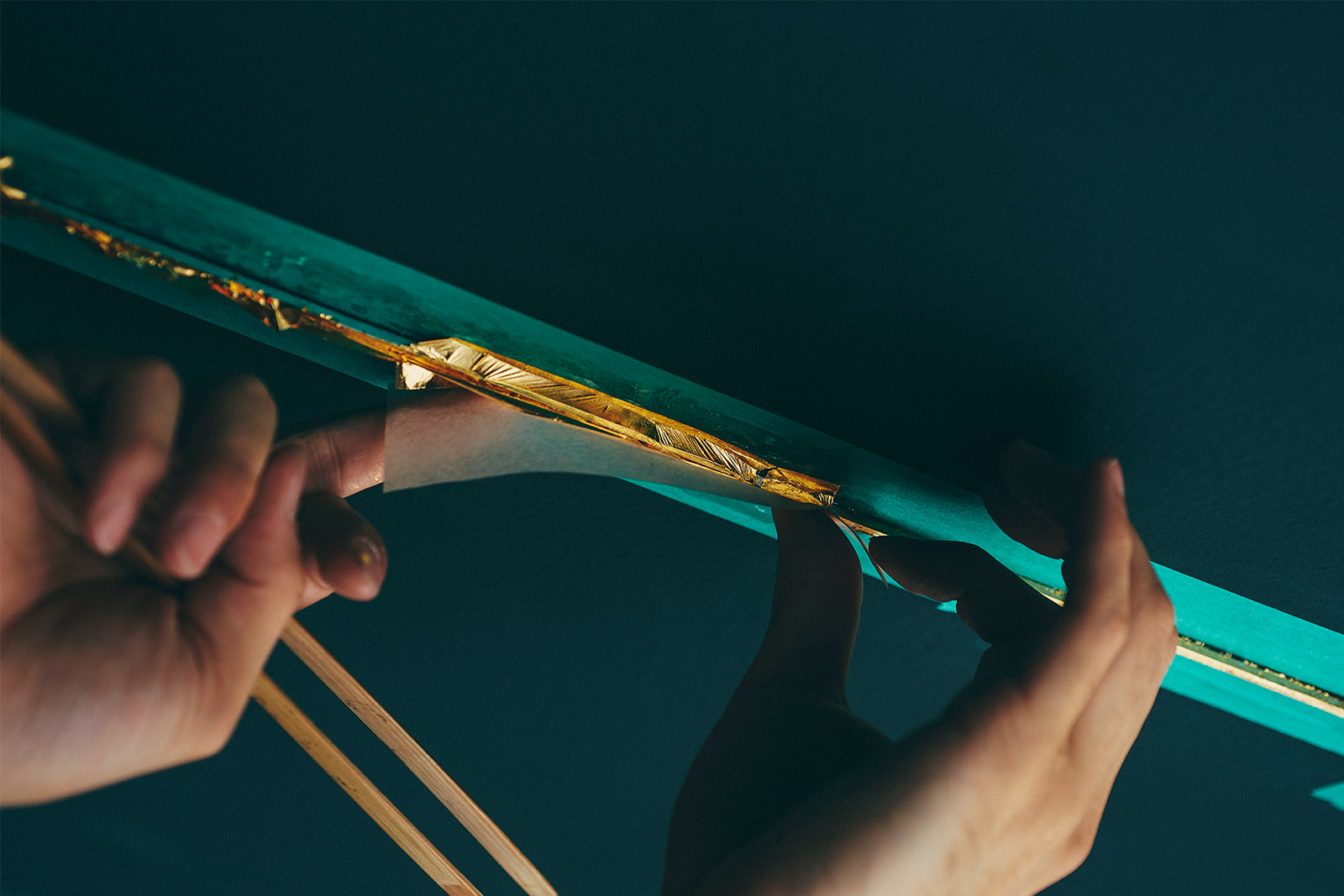 Like weaving textiles, the architecture weaves together various craftsmanships, such as plastering, shikkui plastering, smithcraft, foiling, and stone pitching. The rammed-earth wall surrounding the building contains layers of earth from different ages. Each craftsman's brush strokes are still visible on the exterior wall covered with sumi-black shikkui. The architecture was built using a unique method of connecting individual craftsmen and collaborating with them, instead of commissioning the entire construction to a construction company.
We believe that an ideal society is where diverse personalities are intricately woven together in harmony, just like in this architecture, where each material exhibits its own potential and unique quality. Such a society should be different from an industrial society where objects are efficiently produced with uniform elements, and everything that does not meet the standard is eliminated.
Through this architecture, which also serves as our flagship store, we disseminate kogei culture that intricately weaves and harmonizes diverse qualities of materials. Our fascination with flowers, scents, and sound is an example of this culture. We believe that the philosophy of kogei that has lived in the 1,200-year tradition of Nishijin textile can offer clues for harmoniously existing with others and with the environment in the coming age.
HOSOO FLAGSHIP STORE
Along with the functions required for our headquarter building, the architecture considers the textures of objects that would appropriately reflect craft culture when combining the flagship store and gallery.
Located in a historical area of Kyoto, the area envisages traditional scenes of its time. The exterior expresses the inherited history of traditional building techniques and textured materials such as sumi-ink plaster, gold leaf, and rammed earth walls that have been traditionally used in Kyoto. The gold leaf maintains its luster in contrast with the sumi-ink plaster, which ages with time.
The construction was not entrusted to one specific firm, but instead organized under the guidance of master craftsmen of various specialties and their teams. Each step was dissected and coupled to contrasting production processes with the primary aim of discovering new production methods. This is an alternative to the current streamlined production systems where the actual production processes and associated technologies have become a black box for the public that tend to focus only on the finished product.
Another example is with our NISHIJIN Reflected, which alters the perception of light, is the result of the combination of Nishijin textile with cutting-edge FRP technology. From Nishijin textiles to plaster, metal ware, gold leaf, Wilton carpets, furniture, and tableware, a collection of craft techniques can be discovered in one location. HOSOO's philosophy is the epitome of craft architecture.
Awards
HOSOO RESIDENCE
Since 2017, HOSOO RESIDENCE has been in operation as a membership-only accommodation. Located in a quiet alleyway in the historical part of Kyoto south of the imperial palace, the building is a fully renovated pre-war Kyomachiya with the exterior keeping its traditional townhouse appearance. The interior exemplifies craft architecture that has a contemporary feel with its Nishijin textiles, earthen walls, and traditional plastering techniques.
The space gently nestles guests in beautiful shadows of times past. Interior items have been carefully selected and exclusively made for HOSOO RESIDENCE. Experience the quality and opulence of such items that have been nurtured by craftsmen over time.